Today's hot accessories, freshly baked from the oven.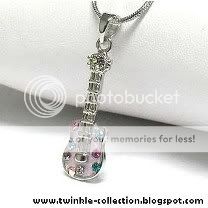 Twinkle Collection,

RM35
If you are a fan of rock bands or even Guitar Hero, maybe you can consider getting this guitar necklace from Twinkle Collection. What I really love about this necklace is that it is studded with multi-coloured crystals with an enamel background. Definitely not something you can find anywhere.
--------------------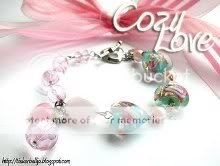 Tinkerbell.jo
,

RM18.90, RM24.90
Handmade with love by Tinkerbell.jo. Check out Cozy Love, which gives a very quiet, cozy and peaceful feeling. If that is not your cup of tea, then how about the fiery red bracelet which is so full of love?
--------------------
ALLkinds OF Everything,

RM15, RM19
Oh my, these earrings are so super duper cute. Hehe. I love how they add a small little flower on the handbag charm. Also check out the asymmetric earring with perfume and socks charm!
--------------------
Luvlybeads,

RM23
Sometimes, it is the little details that completes a design and I am referring to this bracelet by Luvlybeads. The pink little heart on the heart toggle really melts my heart. And the combination of pearls, butterfly and polymer flower clay in pink shows total sweetness!
--------------------

Cuteclip,

RM4
Fancy some flowery hair bands? If yes, be sure to visit cute clip. You can get it for RM4 each or RM10 for three. They have it in brown too!
--------------------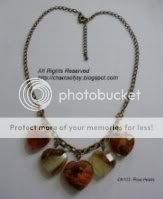 Chains Of Joy,

RM26
The instance I found this necklace from Chains of Joy, I knew I found love. It was definitely love at first sight. I believe, the designer behind this necklace really succeeded in conveying the message by bringing love and joy to the people who wears it!