RM35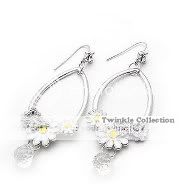 Twinkle Collection
,
RM20
Oh my, you should really check out the smiley heart necklace. Definitely one of a kind with a twist from the common heart necklaces. Also check out their Tiffany & Co inspired Roman necklace and not forgetting their lovely pair of earrings.
--------------------


I love just simply love the studded roses in the shiny square crystal. These lovely earrings comes in *gasp* pink, red, green, blue white and beige. And what more? It's only RM2 per pair!! Steal it now or regret later.
--------------------
Zen Jewelleries
,
RM45, RM30
(Postage included)
Check out the matching dragonfly bracelet and earrings. I love how the colour combination makes them look so magical and so lively!